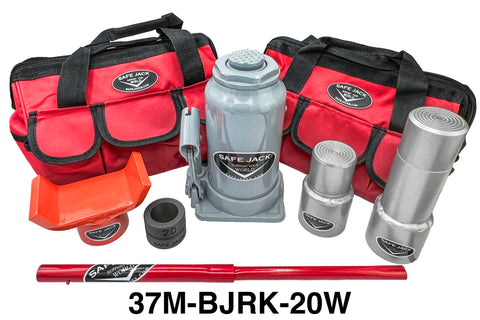 20 Ton RV Jack Kit
PN: 37441
UPC: 854185005981
Made for the heaviest RVs. Travel with confidence; safeguard yourself and your RV with Safe Jack! The RV Jack Kit consolidates essential tools, transforming a 20-ton bottle jack into a compact and secure lifting solution. Consider adding the optional Safe Jack Universal Bottle Jack Base (97M-UBB) or the Safe Jack Universal Bottle Jack Stabilizer (97M-UBS) to reduce ground loading and maximize stability.
BE SAFER DURING LIFTING OPERATIONS
Benefits
Increases safety

Makes jacking easy in a variety of ways

More stable & secure

Extends the jack's range and usefulness

 
Compact & easy to stow
Features
Lift range is 10 inches – 27 inches

For RVs greater than 48,000 GVW.

Extension Screw Collar provides maximum stroke
Extensions and Lift Pads can be arranged in any combination
Additional Extensions can be added to increase lift range
Lift from the axle, frame, or other lift point

Durable steel construction

Extensions and Lift Pads are always made in the USA
37M-RV20 Includes:
VIDEOS:

In Use Pictures
Exceeded Expectations
Great "Safe" bottle jack. With the included accessories it is by far a safe way to lift your vehicle.
---
We Also Recommend