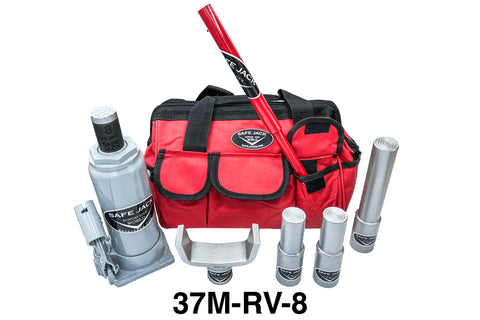 8 Ton RV Jack Kit
PN: 37118
UPC: 854185005080
Travel with confidence; safeguard yourself and your RV with Safe Jack! The RV Jack Kit consolidates essential tools, transforming an 8-ton bottle jack into a compact and secure lifting solution. Consider adding the optional Safe Jack Universal Bottle Jack Base (97M-UBB) or the Safe Jack Universal Bottle Jack Stabilizer (97M-UBS) to reduce ground loading and maximize stability. The stroke of the 8-ton bottle jack measures approximately 5.25".
BE SAFER DURING LIFTING OPERATIONS
Benefits
Increases safety

Makes jacking easy in a variety of ways

More stable & secure
Extends the jack's range and usefulness 
Features
Lift range is 8 inches – 36 inches


For RVs up to 24,000 - 32,000 GVW.

Extension Screw Collar provides maximum stroke

Extensions and Lift Pads can be arranged in any combination
Lift from the axle, frame, or other lift point

Durable steel construction

Extensions and Lift Pads are always made in the USA
37M-RV-8 Includes:
1 ea.

 

37M-PL8T Pro-Lift® 8-ton Bottle Jack

 

(The 8-ton Pro-Lift® jacks we carry have been MODIFIED. We reduce the saddle diameter to accommodate our 6-ton Lift Pads & Extensions.) Owner's Manual
1 ea.

 

37M-ESC-8 8-ton Bottle Jack Extension Screw Collar
2 ea.

 

37M-SJE3

 

3-inch Bottle Jack Extension

1 ea.

 

37M-SJE6

 

6-inch Bottle Jack Extension
1 ea.

 

37M-SJR3

 

Universal Bottle Jack Lift Pad (Round cradle for axle, leaf spring, frame, etc.)
1 ea.

 

37M-SJ12BAG

 

Heavy Duty Canvas Safe Jack Bag
Videos
In Use Pictures
Awesome Customer service and products.
The axle adapter was to small that came with the kit for my Rv, my fault for not reviewing that part. I received person attention from the Safe jack company after I made a comment I attached to a 5 star positive review. Even before I could call customer service I received a email. They got me the correct axle adapter right away. Customer service and the quality product set them apart. I would highly recommend them to everyone I know! Thank you very much, Chuck
---
We Also Recommend