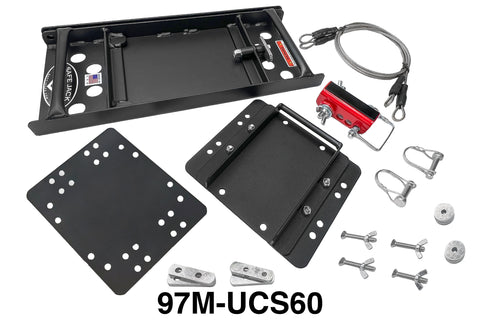 Universal Combination Stabilizer for 60" Jack
PN: 97101
UPC: 854185005479
The Safe Jack Universal Combination stabilizer is the all-in-one stability solution for a wide variety of bottle jacks or Hi-Lift style jacks. Designed to accommodate both standard bottle jacks and Hi-Lift style jacks, the Universal Base Plate acts as the cornerstone of this system, akin to LEGO blocks, allowing for the addition of other components to create a secure and reliable platform. Effortlessly switch between jack types or sizes. With the interchangeable insert plates, a simple operation is completed in seconds. Whether you're on the road in your RV, 4x4, SUV, service truck, or on the farm, trust in the unmatched versatility and safety of our Universal Base Plate system.
Please measure the foot of your Hi-Lift style jack before ordering this product. You will need to order our Universal Steel Foot (51M-USF) if the width of the jack foot is wider than 4.25 inches (107.95 mm.)
Benefits:
Supports jacks on soft soil, mud, road shoulders, & more
Low profile & easy to stow
Reduces ground loading & creates a stable platform for lifting operations
Switching jacks is fast, easy, & requires no extra tools
Universal system saves you time and money

Features:
No snag points
18 X 8 X 1.5 inches
Accommodates bottle jacks 4-20 tons, Hi-Lift style jacks, & automotive scissor jacks
Can be used as an auxiliary base for automobile jacks
Easy to place using handles at each end
Strong steel construction
Powder coated finish
97M-UCS60 Includes:
Videos:
Amazing Jack
This thing is awesome. I have a lifted Jeep so I use the attachments and it is SOLID!!!! I would recommend this to anyone. One slight negative is the paint on the Jack handle peels extremely easy but the metal handle is solid as can be.
PERFECT JACK BASE SYSTEM
Just had the base system for bottle and high lift jacks come. Ofcourse I had to put everything together, then try the base system, with the different jack accessories purchased earlier from Safe Jack (20 ton range). Everything works great, fit and finish is excellent ! I now have my lifting needs covered, with no fear that I can accomplish any lift needs I could run into. If you are serious about safety, ease of operation, quality of craftsmanship, purchase from SAFE JACK !!!!
5/5
Universal Combination Stabilizer for 60" Jack
---
We Also Recommend