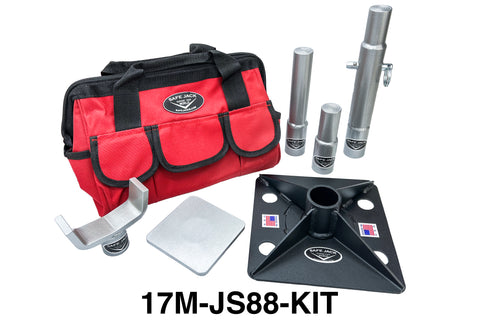 8" x 8" Compact Jack Stand Kit
PN: 17115
UPC: 810009490166
 "Warning! To avoid injury or death, support the load with a suitable support"
This is the warning you'll see on any modern lifting device. In remote environments, locating suitable support can be a challenge. Traditional jack stands often lack versatility and can be cumbersome. Our jack stands, however, offer a compact and adaptable solution! Featuring wide bases for excellent stability and flotation, they are accompanied by interchangeable, stackable extensions that allow you to achieve the desired height efficiently and safely. This Compact Jack stand base will fit conveniently inside the Safe Jack Heavy Duty Canvas Bag and is compatible with the Safe Jack 6-ton Bottle Jack Extensions and Lift Pads.
Benefits
Increases safety
Stable and secure for emergency repairs
Great supportive tool for performing ladder lifts
Features
8 inches by 8 inches
Rated for 6 Tons
Compatible with Safe Jack 6-ton Bottle Jack Extensions and Lift Pads
Numerous combinations for the Extensions and Lift Pads
Support from the axle, frame, or other lift point
Compact and portable
Durable steel construction
Base plate, Bottle Jack Extensions, and Lift Pads are made in the USA
Kit Includes:
Videos
In Use Pictures
Great product
Bought the jack set for my travel trailer. The set is well made and would highly recommend
I love how compact it is. There are tons of option. The price seems pretty steep. The welds on the extensions are terrible. They are not smooth and concaves like the photos.
---
We Also Recommend