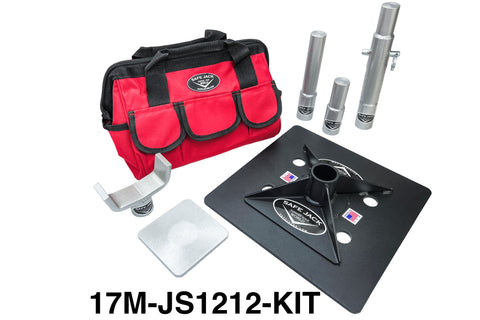 12" x 12" Compact Jack Stand Kit
PN: 17103
UPC: 854185005813
 "Warning! To avoid injury or death, support the load with a suitable support"
This is the warning you'll see on any modern lifting device. In remote environments, locating suitable support can be a challenge. Traditional jack stands often lack versatility and can be cumbersome. Our jack stands, however, offer a compact and adaptable solution! Featuring wide bases for excellent stability and flotation, they are accompanied by interchangeable, stackable extensions that allow you to achieve the desired height efficiently and safely.
Benefits
Increases safety
Stable and secure for emergency repairs
Great supportive tool for performing ladder lifts
Features
12 inches by 12 inches
Rated for 6 Tons
Compatible with Safe Jack 6-ton Bottle Jack Extensions and Lift Pads
Numerous combinations for the Extensions and Lift Pads
Support from the axle, frame, or other lift point
Compact and portable
Durable steel construction
Base plate, Bottle Jack Extensions, and Lift Pads are made in the USA
Kit Includes:
Videos
In Use Pictures
Solid build
Haven't had the need to use it but I'm confident this will do the job. I wanted a stand that allowed me to safely jack my van on or off-road. This is perfect.
Super Duper
I received a 3/16 inch thick version of Safe Jack's jack stand base. Super flat and tight fit with the extensions created a super stable base for use on my truck, tractor and toy hauler. It will live in the back of my truck and used for safety. You should NEVER trust a jack alone!
Solid!
Bought a heap of goodies and was very pleased to see how well made everything is. I will be carrying the 12" base and all of the extensions in my Power Wagon while off-roading coupled with a 20 ton hydraulic/Pneumatic jack. Not much I won't be able to accomplish with my safe jack gear!
---
We Also Recommend